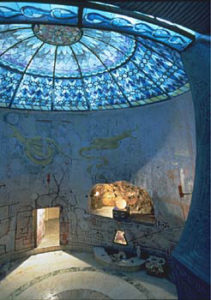 Stories of an elaborate underground temple first drew me to Damanhur—a spiritual art retreat in the northern foothills near Turin, where I spent four days during my trip to Italy. More than simply a quiet getaway, this mysterious place housed a subterranean work of art and architecture, a cathedral known as the Temples of Humankind dug entirely by hand into the heart of a mountain. Decorated with mosaics, sculptures, and the largest Tiffany cupola in the world, it's a temple dedicated to awakening the divine spark present in every human being.
Another appealing aspect of visiting Damanhur is the surrounding countryside. The Alps are less than an hour away; there are lakes nearby and superb hikes, one of which follows an ancient Celtic trail still showing many carved symbols on the standing stones marking the path.
It fit perfectly into my itinerary as I needed some hiking after many late night pasta and wine fests in Tuscany and tiramisus and rich ragus in Bologna. I also needed some spirituality to round out the hedonism of Italy's gustatory delights.
Founded in 1975 from the inspiration of Falco Tarassaco, né Oberto Airaudi (1950-2013), Damanhur began as a human laboratory for experimenting with sustainable ways of living, in harmony with nature and its elements and forces. It is named after the Egyptian city of Damanhur which was the site of a temple dedicated to Horus. It slowly expanded into a United Nations award-winning sustainable eco-village staying true to Falco's original vision of a community based upon ethical and spiritual values. Today it has over 800 citizens, a social and political structure, a constitution, 40 economic activities, its own currency, schools, a daily paper, accommodations, restaurants, tours and classes for visitors.
Definitely not a resort or a Michelin 5-star restaurant!
On short notice, I called and made reservations to visit Damanhur then hopped a train from Bologna to Turin and they picked me up at the nearby train station. I had parachuted into a completely different world. From a villa in Tuscany and a teaching gig in Bologna, to a New Age commune where people had animal names and wore flowing robes (read my story  Sleeping on Sekhmet. for the skinny on just how strange this place seemed when I arrived).
I had to practice patience at the office when I checked in. Italians are much more gracious than Americans. They kiss one another and say hello and catch up on the details of each other's lives—all while you wait for your room key (and try to figure out why the concierge is named Platypus.)
I waited and waited but finally got acknowledged and told that if I wanted, I could join a group from England that was about to leave on a tour of the Egyptian Museum. Without unpacking, I grabbed my camera and was whisked into the bus by a very nice Damanhurian man who spoke excellent English. His name was Giraffe. Okay. The bus was full of chattering women with thick British accents. I said, "Hi! I'm from California." They answered back in jolly unison, "We are psychics from England." Oh.
They absolutely adored that I was from San Francisco. Suddenly the entire tone of my solo vacation switched channels. I was on a tour without even planning to be, but these dear, slightly frumpy women were so warm and welcoming—sharing their biscuits and stories with me—I accepted my fate. I had been adopted by a gaggle of lavender-clad British housewives gone New Age.
One hour later, we were marching up the steps of the Egyptian Museum in Turin. It has the second largest Egyptian collection in the world. In the 1800s the Italians were leading the pack in archeological digs in Egypt funded by the Royal House of Savoy, whose home was Turin. The bounty was brought back to their private collection that is now housed here.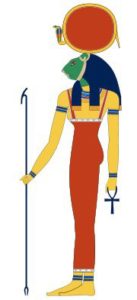 I had visited the Cairo Museum twice so I was not wowed by the collection. What was beyond my expectations—and tied into the mysteries of Damanhur—was that the museum directors had been collecting statues of a particular Egyptian goddess—the lion-headed Sekhmet. They wanted her so desperately they had traded the real Rosetta Stone to the British Museum for 13 statues of Sekhmet. The Rosetta Stone is the key to translating the hieroglyphs and one of the most important archeological pieces in Egyptian history. They also traded a giant gold statue of Horus, one of the top dudes in the pantheon of Egyptian gods, for a dozen more Sekhmets.
Why exchange such valuable pieces for figures of this lesser goddess? Because they believe she holds the memory of past lives. The museum has even created a special room called the Hall of Memory. Over two dozen life-size Sekhmets line the walls. Arrows on the floor point the direction one is to follow passing by each statue. There is a sign asking people to walk slowly and in silence. Our guide instructed us to gaze into the face of each Sekhmet. He suggested that memory of our past lives would awaken during this meditational focus. We spent an hour circling the dimly lit hall looking into the eyes of this feline goddess. It was quite relaxing and a wonderful way to interact with antiquities, but I did not have any memories strike. I did get the urge to eat pizza.
Is it unusual for museum directors to be into the esoteric arts and rituals? Yes, but not in Turin. Considered one of the top black arts capitols in Europe along with London and Prague, there are more tarot readers, palmists, and alchemists here than any other region in Italy.
As he talked, our guide leaned against the statues as if they were old friends. He explained, "From a magician's point of view, Turin is a magic reference point in the world. White and black magic are both strong here. It is a chessboard crossed by synchronic lines that also pass across Stonehenge and Giza and are linked to Tibet and Easter Island. Four lines directly cross Damanhur. They are linked at the Temples of Humankind."
After the Brits wore me out running around Turin shopping and eating the pizza I had craved, I finally settled into my dorm room (only two other beds with no occupants). The room was decorated in pastel colors, very clean and comfortable, and affordable as was the massage I treated myself to later that evening. The therapist was excellent and I slept like a mummy—just kidding—but it was a sound sleep.
Most of the Damanhurians I met, including our guides, have been there since the founding of the community decades ago. Many visitors come here to see the temple, benefit from a healthy retreat, or check out how the community is organized. The next morning I wandered down to the communal kitchen for an espresso and met another Californian who had just had a past-life reading where it was revealed she had been a courtesan in Venice. Synchronistically, that was the next stop on her trip.
Other guests included the British psychics who were on a sort of spiritual holiday, an Israeli family who wanted a cheap place to stay for a few days, a spiritual guru and her acolytes, various individuals taking classes, and me.
The next day, I joined my psychic buddies for a sacred dance class outdoors in the Grecian-style amphitheater. I felt a kindred spirit with Isadora Duncan as we danced among the columns under the bright sun. I had time the rest of the day to hike and enjoy the architecture and grounds.
On the third day, we were given a tour of the Temples of Humankind, but before we could enter we were required to walk the labyrinths laid out in stone to "align our energies." I found it rather hypnotic to follow the spiral path to the center of the circle and then work my way out without backtracking.
The temple tour is considered an initiating journey, the ritualized reproduction of the inner rooms of every human being. Entry to the temple—a simple wooden door—leads into a labyrinth of passages and seven enormous chambers on five levels.
All of us were nervous, not knowing what this final initiation ceremony might be—what awaited behind the plain wooden door on the hillside where we gathered, the setting evocative of Bilbo Baggins' beloved Bag End Shire home. The entrance to the most sacred place in Damanhur, opened without fanfare and our new guide, named Elefante, invited us into a small foyer that housed an elevator.
He elaborated on the history of the temple in a hypnotic, sonorous tone. "It was built in secret by hand until 1991, when the local government was tipped off that the residents of Damanhur were building an enormous underground structure. The government officials did not know where it was," Elefante told us, "but they knew it was in this hill, so they threatened to just start bulldozing and dynamiting. We had to give in and let them see it. They then ordered us to destroy the temple because we had built it without their approval. Damanhur alerted the newspapers and the television and the Italian arts community sprang into action. How could Italy, a country that celebrated and worshipped art, halt the construction of the eighth wonder of the world?" he asked.
With a sweeping arm gesture, he invited us to step into the elevator. We all managed to squeeze in, stuffed to overflowing as it slowly creaked one hundred feet downward. The doors opened into a chamber with elaborate murals and sculpted tree roots symbolizing the first chakra and the beginning of mankind. Elefante explained, "Each level of this temple is an artistic masterpiece. On one level is the largest Tiffany stained glass domed ceiling in the world."
As we were guided through the labyrinth of opulently carved and painted temple chambers, robed figures glided silently by us without a glance in our direction in the richly decorated, narrow passageways. They all donned Orson Welles copper-wire hats with antennas and other gizmos sticking out. Our guide explained, "These skull caps enhance our ability to receive the river of energies that emanate from the synchronic lines intersecting the temple."
Four hours later, the elevator doors opened to the fading afternoon light on the surface. The usually talkative Brits were nonplussed by the magnitude of art and ritual blended together in the heart of this mountain. We could only shake our heads, speechless—the temple was the most magnificent human structure I'd ever seen. It made the Great Pyramid of Giza seem lifeless, the Golden Gate Bridge ordinary, the art at the Louvre two-dimensional (well, not quite).
That evening, after taking a nap to recharge before leaving Turin, I waved goodbye to my psychic sidekick friends, who chorused, "You must come stay with us in England. Perhaps you could change your travel plans and continue on with us?"
Tempting, yes, but it was time to go back home to my reality of family and work. Platypus gave me a lift in his tiny Fiat to the train station in Ivrea near Damanhur. We hugged goodbye as I asked, "Why did you choose the name Platypus?"
He giggled and said, "I like the way they wiggle when they walk."
 DETAILS:
Damanhur is located in the hills of Piedmont at the border of Valle D'Aosta, the northernmost province of Italy on the French border where Fontina cheese is made.
Turin (TRN) is the closest airport, situated 45 minutes by car from Damanhur.  You can also take the train to Ivrea and a taxi to Damanhur.
A variety of accommodations are possible, including shared rooms, three private guesthouses, hotels and B&Bs. Prices range from 28-45 euro per person. Reservations are required.
The ½ day to 7-day programs can be designed to your interests—participating in rituals, meditate in the Temples of Humankind, walk the labyrinths, art classes, massage, esoteric readings, and outdoor excursions.
If you want to delve deeper into the mysteries of Damanhur during my stay there, read Sleeping on Sekhmet.